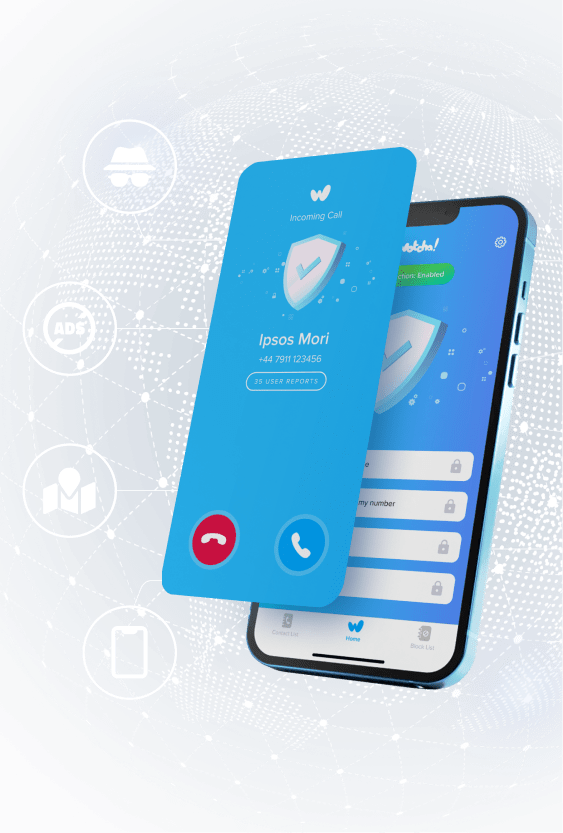 benefits
Caller Identification

The Who Called Me website, the source behind Wotcha, is trusted and relied on by millions of Britons for accurate Caller ID information.

Who checked my number?

Identify who's searching for your number, but it also provides the approximate location of the person who checked your number.

Anti spoofing filter

The app uses the latest technology to monitor your number's activity on both mobile networks and search engines.

Incognito mode

Feel confident that your personal contacts will remain private. Get the comprehensive Caller ID experience you need with Wotcha. Private phone book
Say goodbye to missed calls and unwanted calls with Who Called Me App
Wotcha is the premier Caller ID and Spam Blocking app in the UK, offering a completely free service to help you immediately recognise and handle unidentified numbers, spam calls, call centers, and corporate calls before you even answer. Block all undesired calls with just a single click and experience peace of mind while utilising your phone.
Additionally, Wotcha automatically reviews your call logs for any missed calls, excluding numbers already saved in your contacts. We guarantee your contacts are never examined or uploaded to our servers. Rest assured, your privacy is always safeguarded with Wotcha.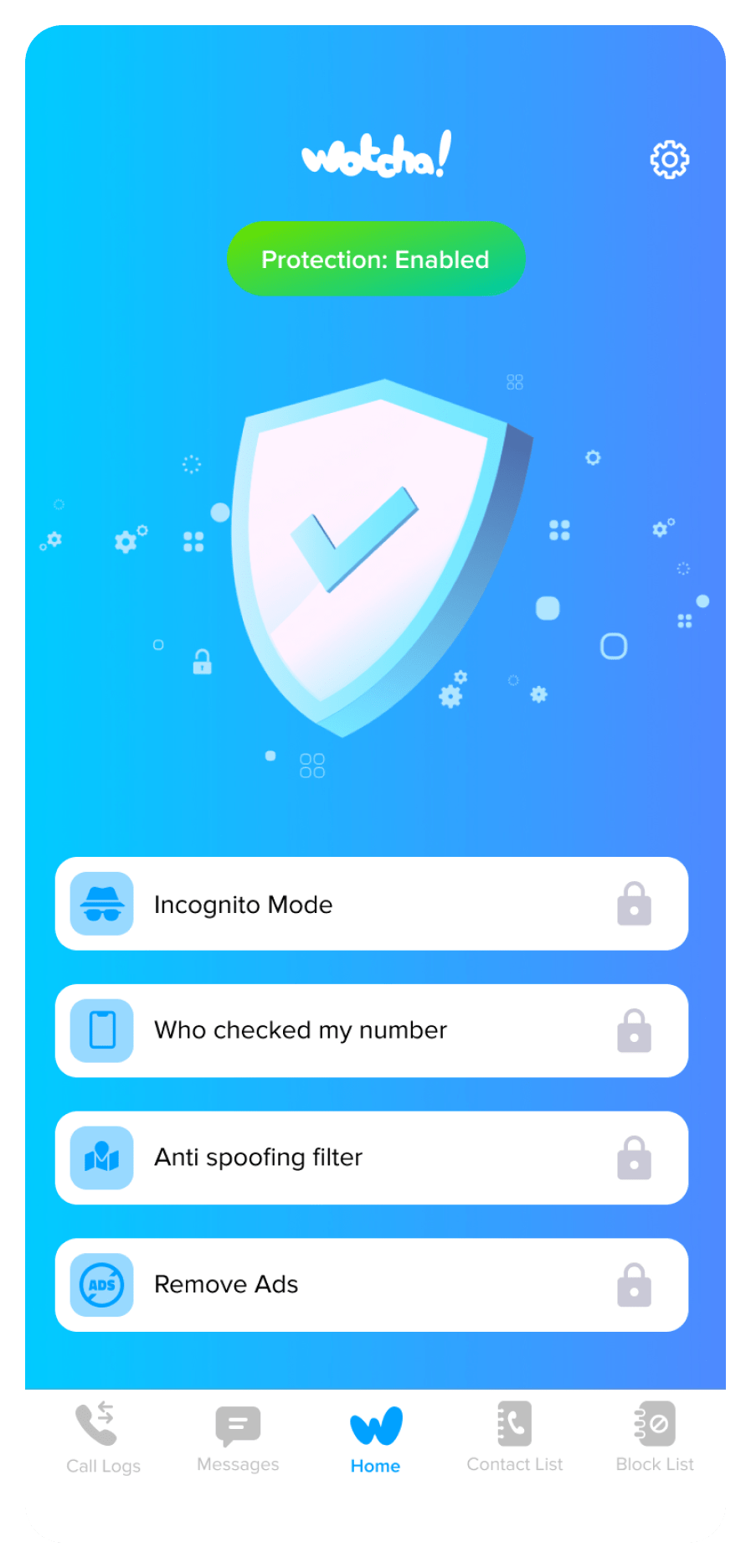 See who's calling!
With the Wotcha app, unknown callers are a thing of the past, as it helps identify the Caller ID instantly whenever you receive a call from an unfamiliar number.
Gain immediate identification of all incoming calls, even from those elusive unknown numbers. Boasting millions of active users on the 'Who Called Me' platform, Wotcha can recognise 99% of phone numbers and swiftly block undesired calls. Maintain a phone environment free of spam and unwarranted calls with the UK's leading reverse phone lookup tool, now accessible through a handy mobile app. Download Wotcha now and discover who's on the other end of the line!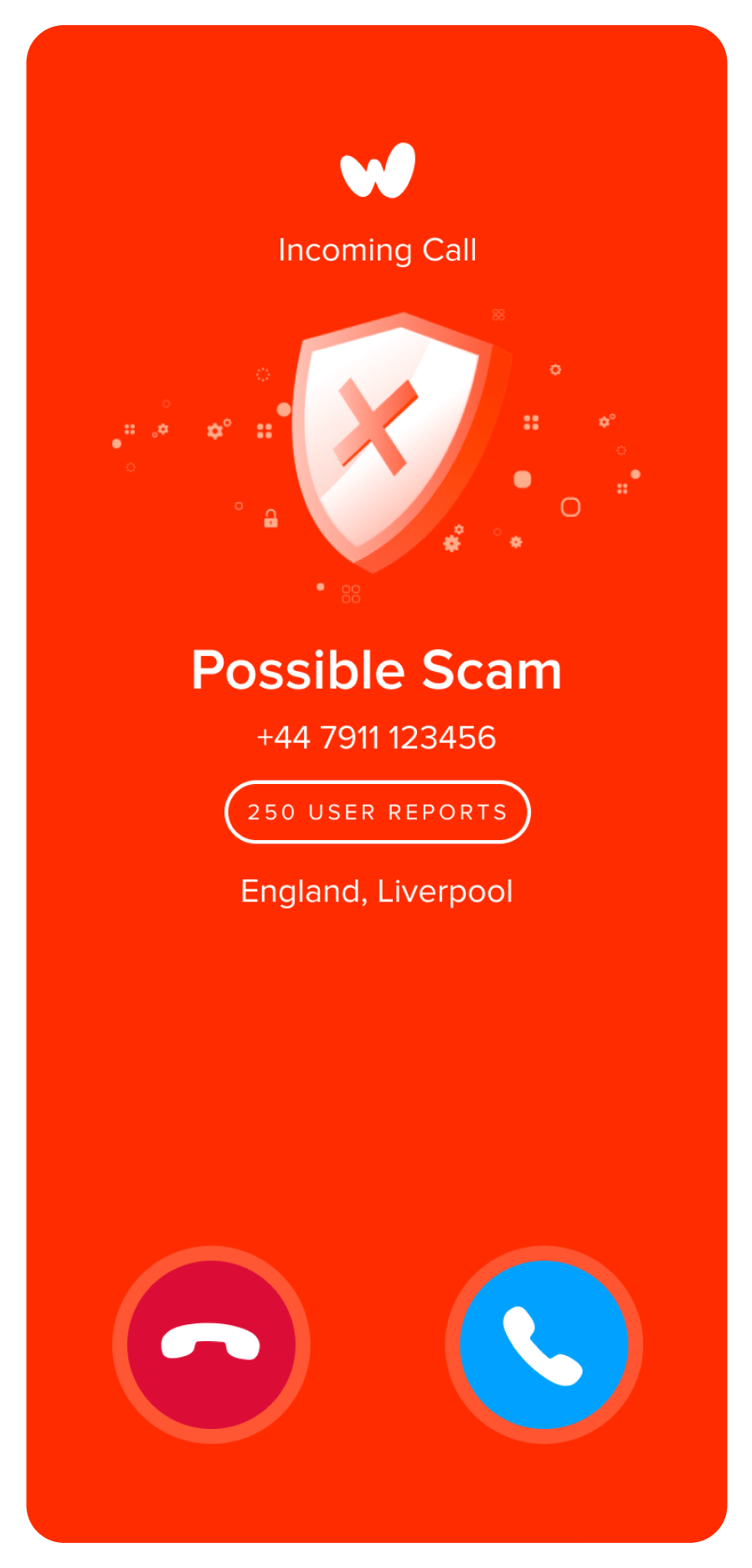 Anti spoofing filter
Protect your personal phone number from malicious activity with Wotcha's advanced Anti-Spoofing Filter. Not only will Wotcha provide you with the Caller ID of incoming calls, but it will also monitor and protect your number from spoofing attempts. Receive alerts in real-time if anyone tries to deceive you with a fake number. Keep your phone secure and feel confident with every call, only with Wotcha, the leading Caller ID app available exclusively in the United Kingdom.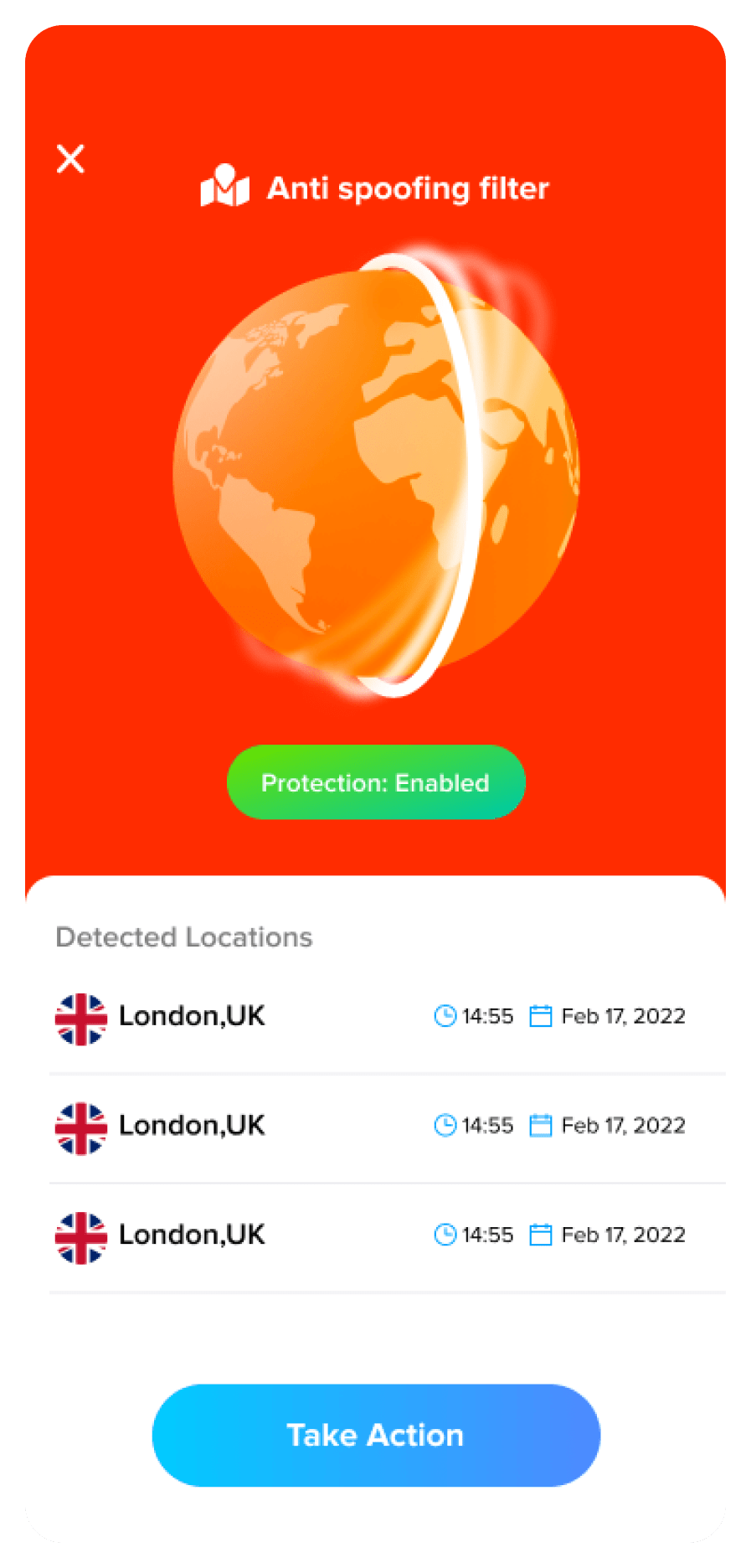 Who checked my number?
Stay informed about who's searching for your phone number with Wotcha's powerful Caller ID feature. Get real-time updates on the activity surrounding your phone number and stay ahead of any potential threats. Say goodbye to missed calls from unknown numbers and hello to a safer, more informed phone experience. Get the FREE reverse phone lookup tool you need, now available on your mobile phone with Wotcha.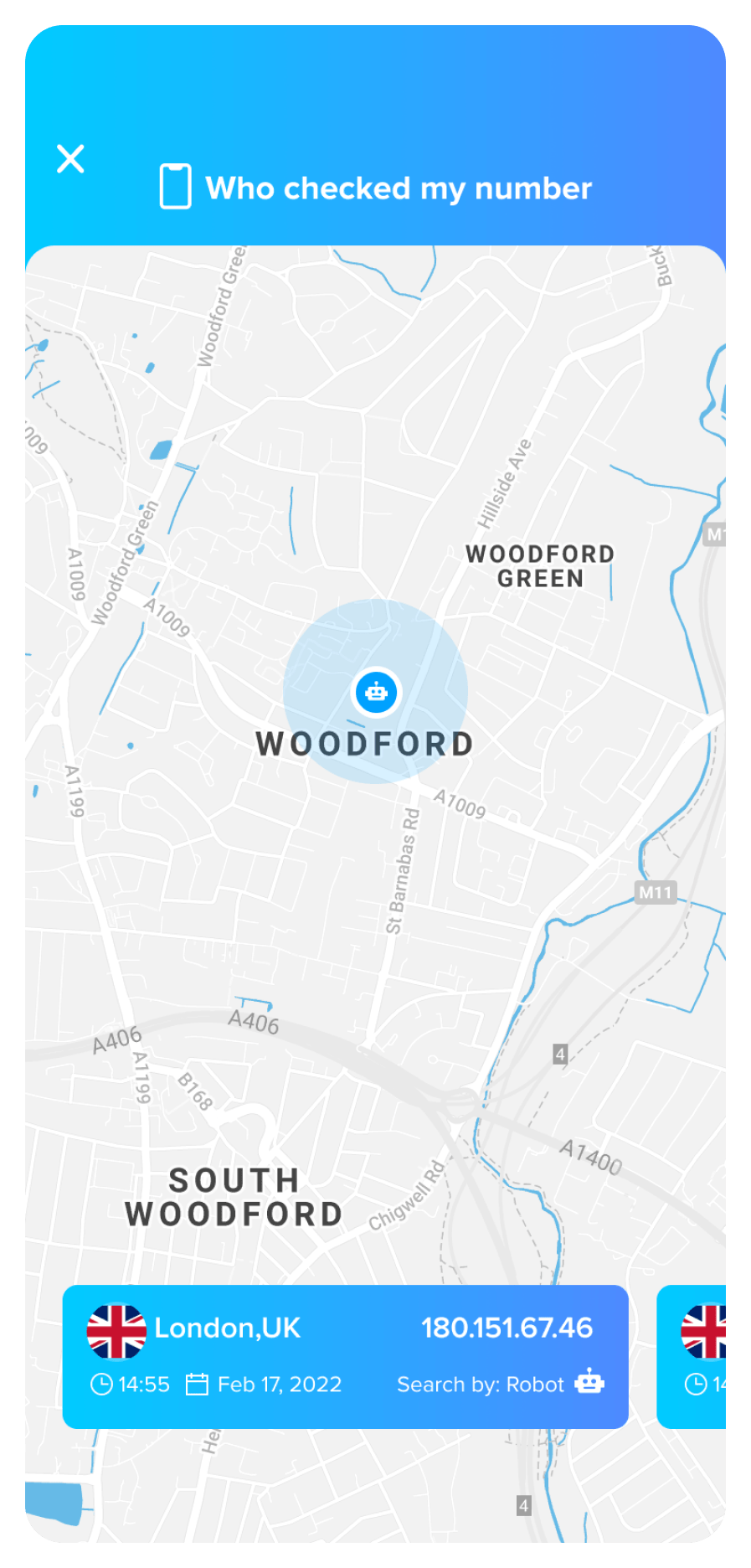 FAQ
Why the Name 'Wotcha'?
Ever pondered our app's distinctive moniker? "Wotcha" is a classic British greeting, akin to "Hi" or "Hello". Rooted in the traditional English phrase "What cheer?", it encapsulates our app's mission: Unveiling who's saying "Wotcha" from the other side of the ring. Apt, wouldn't you agree?
Is the application free of charge?
Absolutely! Dive into Wotcha's UK caller ID and robust spam-blocking services, all free of hidden catches. Engage with our premier British phone number lookup without spending a single penny.
Any set-up fees I should know about?
None whatsoever. With Wotcha, just download, and you're good to go. No extra charges or tricky fees to worry about.
Why is my phone number necessary for verification?
We take the integrity and focus of Wotcha seriously. By requesting phone number verification, we aim to minimize spam and ensure our app caters specifically to users in the UK. This way, we can guarantee that only genuine users in the UK enjoy our services.
Having trouble verifying your number?
Your verification hinges on the number tied to your current SIM card. An activation code will be dispatched via SMS, which the app needs to recognize.
For Android users: The app autonomously verifies the text message. So, if you face any issues, it might stem from a mistyped number, network inconsistencies, or potential interference from other apps.

For our iOS family: Due to iOS's inherent system constraints, you'll have to punch in the code manually. If you're waiting on that SMS, double-check your entered number and your network's reception.
Wondering about the caller ID mechanism?
Wotcha employs a blend of offline and online strategies to pinpoint Caller ID.
For iOS: Wotcha leans on the 'Call Directory'—a reservoir of numbers fetched from our server. Since this operates offline, it only recognizes previously acquired numbers. Given the iOS limitations, it's wise to regularly pop open the Wotcha app to ensure you're always updated.

For Android aficionados: We pull data in real-time from Wotcha's dynamic database. When you get a call, our app dives into the database, cross-referencing if the caller has been flagged or searched by our user community. A heads-up: Keeping your internet connection on will let Wotcha serve you best on Android.
Why Use Wotcha for Your Phone Number Lookup Needs?
Received a call from an unknown number and puzzled about "who was that?" Say hello to Wotcha's phone number identification tool! Enter the mysterious number, and we'll reveal the caller's identity, pronto. And guess what? Wotcha also flags pesky telemarketers. Block them with a tap through our app and stay safeguarded from unwanted calls.
What's Wotcha's Reverse Phone Lookup All About?
It's simple! You give us a number, and we give you a name. Gone are the days of skimming through pages of phone directories. Just type in the number, and let Wotcha's advanced algorithm do the magic!
How Does Wotcha's Number Identification Function?
Wotcha thrives on its vibrant community of millions across the globe. Every time our users identify a caller, they help others do the same. So, if a certain number is labeled 'Telemarketer Alert', trust that many have endured that call before you.
Navigating Wotcha's Number Search: A Walkthrough
Dive into Wotcha with just the number in hand. Log in, and within moments, you'll know more about your caller – their typical calling regions, user comments, and even their calling patterns. It's intuitive, fast, and user-friendly.
Is Wotcha's Service Truly Free?
Absolutely! Dive into our world of caller identification without spending a penny. Want more? Our app brings an expanded world of features right to your fingertips.
Wish to Block An Intrusive Number?
While the web lets you flag spammers, the Wotcha Who Called Me App is your shield. Block numbers with ease and enjoy a disturbance-free communication experience.
How Secure and Dependable is Wotcha's Number Search?
At Wotcha, your privacy isn't a joke. We protect it fiercely and uphold the highest standards in data security. Transparency is our mantra, and we believe in empowering users to control their data. And yes, we're entirely compliant with global data regulations.
Scouring for International Numbers on Wotcha?
Easy-peasy! Just input the complete number with the country code. For a seamless experience, we recommend getting the Wotcha app – your ultimate companion against unknown & unwanted calls!
Why is Wotcha the Ultimate Free Reverse Phone Lookup Champion?
With billions of calls demystified and a database spanning countries far and wide, Wotcha stands tall. With just a click, unveil not just names but patterns, locations, and more. Ensuring communication remains secure and efficient is our promise, and guess what? It's all yours, for free!